F1 MONACO INFO
21 - 24 MAY 2020
Circuit de Monte Carlo
Get the adrenaline pumping!

Of all the races on the Formula 1 calendar, no circuit can truly achieve the level of excellence, elegance and technicality of the Monaco Grand Prix. From the Casino Square to the most famous pin in the world, passing the tunnel and along the luxurious yachts moored in the harbour, the Monte Carlo circuit is a legendary route with steep turns filled with history. Extremely challenging for drivers and stables alike, the Monte Carlo circuit, nestled in the heart of the Principality's elegant streets, has fueled the dreams of motorsport enthusiasts for decades.
For some drivers, winning the Monaco Grand Prix is all the more prestigious because it is almost impossible to overtake in this narrow and difficult-to-understand route.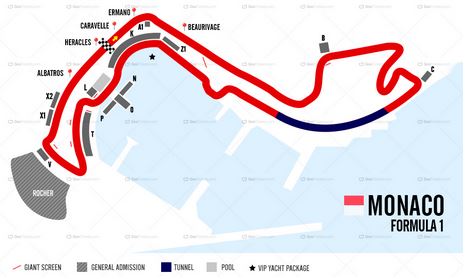 Find all the information about https://www.monaco-grand-prix.com/fr