LES NOCTURNES DE LA VILLA E. DE ROTHSCHILD
Le 27 August - De 19h30 à minuit, annonce de la fermeture dès 23h30
THE NOCTURNES OF THE VILLA AND ROTHSCHILD EPHRUSSI GARDENS
July 8, 2019 to August 27, 2019
ROTHSCHILD EPHRUSSI VILLA AND JARDINS
In July and August, the doors are exceptionally open after dark!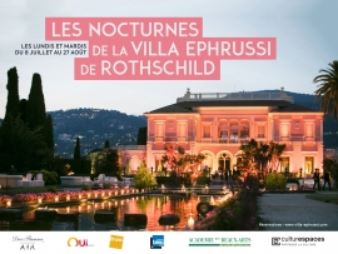 On Mondays and Tuesdays, come and discover the villa and its gardens during nights that invite you to relive the magic of the great hours of the Riviera. Several hundred candles will illuminate the patio, walkways and pools of the French Garden.

Music, fountains, bar and candles will be on hand for a romantic and glamorous tour of the villa and some of its gardens.

New 2019: The show "Les Lucioles de la Villa" presents, in the middle of the pools, two dancers of the Ballet of Nice performing choreographies dressed in illuminated dresses.

Duo concerts will be offered each evening: saxophone duo in the illuminated patio on Mondays and Andalusian music on classical guitar on Tuesdays.
Today Tuesday: Classical - guitar and soprano singing, Italian Renaissance tunes, French melodies
Practical information
Mondays and Tuesdays, July 8 and August 27 from 7:30 p.m. to midnight (announcement of closure from 11:30 p.m.).
Restaurant closes at 10:30 p.m. The pop-up bar closes at 11pm.
Save $4 by booking your ticket online on https://www.villa-ephrussi.com/node/1388
Pre-sale web rate: $18
On-site fare: $22
Family pre-sale web rate: $52
Family fare on site: 63 euros
CALL QUICKLY TO BOOK YOUR TABLE AT THE RESTAURANT!