du 17 May au 29 September - Fermé le lundi, 11h-18h jusqu'au 22 juin, 10h-18h jusqu'au 29 septembre
THE BIENALE OF ARTS
7 EXHIBITIONS
"NICE, CINEMAPOLIS" - MUSEUM MASSENA
"THE DEVIL INSIDE *." WHEN THE OP ART ELECTRIFIES THE FILM"- MAMAC
"CINÉMATISSE" - MUSEUM MATISSE
"ALAIN FLEISCHER, THE IMAGE THAT COMES" - MUSEUM OF PHOTOGRAPHY CHARLES NÈGRE
"BEN: LIFE IS A MOVIE"-109
"CLÉMENT COGITORE" - MARC CHAGALL NATIONAL MUSEUM
"THE VICTORINE IN THE ŒIL OF THE MIRKINE - PHOTOGRAPHERS" - AIRPORT OF NICE, THE PAILLON PROMENADE AND THE VICTORINE STUDIOS
EXPO
"THE DEVIL INSIDE" *.
When the OP Art electrifies the film
THE MAMAC - Museum of Modern Art and Contemporary Art
17 may > September 29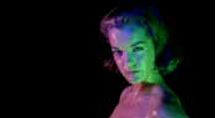 Henri-Georges Clouzot, Serge Bromberg and Ruxandra Medre
Hell, 1964
Photogram
Scenario of Henri-Georges Clouzot, José-André Lacour and Jean Ferry
With Romy Schneider and Serge Reggiani
© 2009 Lobster Films / France 2 Cinema
With the permission of mk2 films

In the early 1960s, kinetic art is everywhere in Europe with a double credo: destabilize the perception and democratize art. Optical illusions paintings, reliefs on the motorized light, and Vertigo environments offer experiences of pleasure and discomfort. Called 'Op Art' in 1964, this avant-garde art, so popular, meeting great success among the public. Art of movement and light, the cinema is, meanwhile, both a predecessor, able to sublimate his game visuals, and a follower, which seeks to vampirize it by desire of modernity. The exhibition thus plunges the visitor within a passionate story between two arts in productive friction. The films are punctuated persiflages and misunderstandings, mutual sublimation, Lord pop or Baroque, collaborations or plagiarism.

Office Hélène Guenin, Director of the MAMAC and Pauline Mari, historian of art.
* From Francois Truffaut, "The four hundred blows", scenario, archives of the film library, the Cinematheque in Paris: "we reproached it enough not to hold in place and have the devil inside.