EXPO "Joan Miró. Au-delà de la peinture"
du 29 June au 17 November - Tous les jours de 10h à 19h
Joan Miró. Beyond the paint.
29 June to November 17, 2019
Commissioner invited: Rosa Maria Malet, Director historical of the Fundació Joan Miró in Barcelona.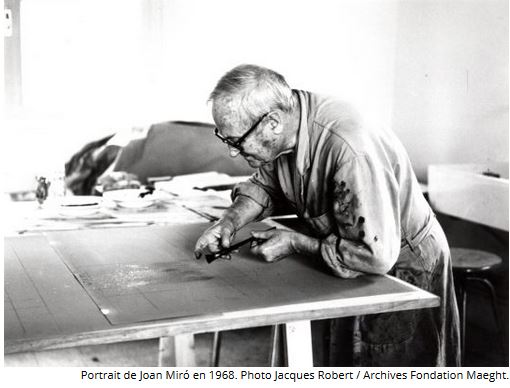 From June 29 to November 17, 2019, the Fondation Maeght famous Joan Miró, major player in the creation of the Foundation alongside his friend architect Josep Lluís Sert and the Maeght couple. The exhibition "Joan Miró. Beyond the paint. "Rosa Maria Malet, historical Director of the Fundació Joan Miró in Barcelona, provides the office, which offer to the public to discover the exceptional work chart of master catalan while understanding his creative process. Issues in very large part of an exceptional donation made by Adrien Maeght, who worked with Miró in his workshops of printing ARTE, 200 works, including a set of unpublished gouaches, models, posters, engravings, original lithographs, plates of draw, good shooting and works of Bibliophily, highlight this prodigious creation.

RATES*
Full price: €16
Reduced rate: €11 (groups more than 10 people, children 10 to 18 years, students, press, speakers guides.) NB: a proof will be required).
Free: children under 10 years old, persons with disabilities and members of the society of friends
Audioguides adults and children version french/English / Italian: €3
To purchase tickets online via Tripadvisor click here
Between two temporary exhibitions, some rooms may be closed to the public. The rate is reduced accordingly.
* Private Foundation receives no public subsidy for its operations, the Fondation Maeght is self-funded by its own resources, mainly by entrance fees.

CALL THE FOUNDATION FOR ALL SPECIFIC REQUESTS