du 30 November au 01 January - 11:00 - 20:00 du dimanche au jeudi 11:00 - 21:00 vendredi et samedi
CHRISTMAS WAS NICE

From November 30 to December 31, 2018
PLACE MASSÉNA - GARDEN ALBERT 1 - PLACE ROSSETTI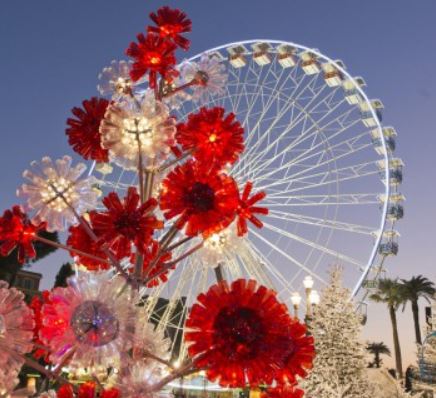 Rink, animations, cottages of artisans, gift ideas, gourmet, shows desires, everything was created for you to enjoy the festive moments with family or friends.

Installed inside the garden Albert 1, The Christmas Village will present 60 cottages presenting a wide range of products from Christmas crafts as well as a space of tasting (socca, waffles...) every day of 11: 00-20: 00 (Friday and Saturday at 10 pm).

The rink will welcome novices as the most experienced daily for sessions at 11: 00, 12:30, 14 h, 15 h 30, 17 h and 18 h 30.; additional meeting at 8: 00 on Fridays and Saturdays .

The big wheel: daily from 11: 00 to 23: 00
Children's playground: daily from 11: 00 to 20: 00 (Friday and Saturday at 10: 00)